Acer Glen B&B
34 Greig st
Tel: 01463235833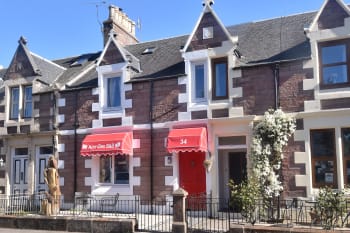 This modern B&B (including a ground floor room) is within easy walking distance to Inverness restaurants, bars and shops and is well-situated for guests arriving by car, rail or bus. It is a 7 minute walk from the bus or train station and a 19 minute drive from the airport (parking is a problem). There is free Wi-Fi throughout the building and all rooms have smart TVs. We are rated 3 Star by Visit Scotland, 9.1 out of 10 by Booking.com and 4.5 out of 5 on Trip advisor. We also hold a Taste our Best award. After a pleasant night's sleep in a comfy bed, a good breakfast awaits, ranging from cereal, toast and fruit to a hearty full Scottish breakfast (included in the room price). Locally sourced produce is home made and for a real Scottish experience, perhaps topped off with your first taste of haggis. Early breakfast can be arranged and vegetarian and other diets catered for (please detail at the time of booking).
Facilities
Breakfast Room
Early Breakfast By Arrangement
Internet Access
Log Fire
Policies
Check In: Between 16:00 and 21:00
Check Out: Between 6:00 and 10:00
Wi-fi: Wireless internet is available and is free of charge.
Smoking: There is no smoking permitted anywhere within the property.
Parking: There is no on street parking available. Parking is available nearby and is free of charge.


Children: Children aged 8 or over are welcome.
Pets: Pets are not allowed.
Groups: All groups are accepted.
Average
4.9
out of 5
22 reviews
100% recommend
Reviews
9th December 2020:

Very comfortable room, warm and welcoming, fabulous bed! best sleep I've had in a while. Breakfast options were amazing, thoroughly enjoyed it, great to get proper coffee! Steven is an excellent host.
Tips:
I was just passing through Inverness so didn't have much time for tourist things other than a wee walk along the river. I did pop into the Cathedral, really beautiful and an excellent cafe for a light lunch.
Would Recommend: Yes
27th October 2020:

We had a fantastic stay in Inverness at Acer Glen! Could not be happier or have a better review. The breakfast was delicious (recommend the poached egg on toast with beans and coffee), and our host was extremely flexible with our arrival and departure. Definitely stay here and your time in Inverness will be that much better! Can't wait to be back.
Tips:
MacGregor's Bars was wonderful. Warm atmosphere (outside of course with COVID19). Also, check out the bookshop on Church Street. Very niche.
Would Recommend: Yes
27th October 2020:

We had the most wonderful time at your beautiful B&B. Thank you for your hospitality and for making our trip a memorable one.
Tips:
The location is fantastic. I would totally recommend The Mustard Seed Restaurant. They have some of the most delicious cocktails, food and desserts I ever had, the price is very reasonable too.
Would Recommend: Yes
13th October 2020:

Would Recommend: Yes
10th October 2020:

Steve is a really friendly man who would do anything to help, his bnb is very clean and cosie close to everything x
Would Recommend: Yes
9th October 2020:

fabulous B&B...steve was the perfect host and followed covid rules.....single room was great and one of the biggest have ever stayed in...good to have a choice of having breakfast in your room...bed was super comfy and the shared bathroom was nice and modern with a good shower... will definitely stay here again on a future visit
Tips:
there"s local shops in the street for any essentials and the centre of inverness is a 5 minute walk over greig street bridge for an array of shops,resturants,cafes and bars to suit all tastes...a visit to the eastgate shopping centre is a must and also the market just over from the train station
Would Recommend: Yes
6th October 2020:

We had a great stay and were very happy with everything, many thanks!
Would Recommend: Yes
6th October 2020:

Steve was friendly and knowledgeable. Breakfast was fantastic! A great location, just a short walk to the town centre and many beautiful walks less than an hour's drive away.
Would Recommend: Yes
26th September 2020:

Would Recommend: Yes
25th September 2020:

Would Recommend: Yes
23rd September 2020:

Brilliant service and adorable accommodation. Very quiet location which makes for a goods night's rest and very considerate and clean environment. Especially at the moment given the health crisis, I feel like the owner did an excellent job adhering to and exceeding expectations set my the state.
Tips:
Riding is lovely, few good hour ones nearby heading towards Lochness.
Would Recommend: Yes
22nd September 2020:

Would Recommend: Yes
22nd September 2020:

Really conveniently situated for a short walk into town , plenty of restaurants close to hand, Steve was very accommodating and served up a nice breakfast.. Most of the house was clean but I'm afraid the beds were extremely uncomfortable,which we mentioned to Steve the owner and he said he would change the mattresses, which I hope he has because we would love to go and stay there again if needed but I'm afraid the beds would be an issue,
Tips:
There is a fab sea food restaurant just at the end of the road literally a two minute walk great selection of fish dishes to offer, otherwise plenty of other places just over the bridge which is just in front of the seafood restaurant , the town is lovely at night with the castle lit up beautifully
Would Recommend: Yes
17th September 2020:

Exeptionally nice host, clean rooms, perfect location.
Would Recommend: Yes
13th September 2020:

Very friendly, welcoming host. Always accommodating. Location was perfect for the City Centre. This B&B was 1st class. Run as a B&B should be. Very professionally. Was clean and tidy 24/7. Breakfast was of top quality with a great selection.
Tips:
We traveled to, Fort William, Nairn and Avimore. Was fantastic days out. Traveled by bus. Was perfect. We sampled a few restaurants over the week. R&B was very nice indeed. The Baha'i, (I think that is the.correct spelling) a very delicious Indian restaurant. Very friendly and very good food.
Would Recommend: Yes
9th September 2020:

Would Recommend: Yes
8th September 2020:

Clean and good Covid-19 measures. Helpful owner, good location and the triple bedroom was very spacious. Thank you.
Would Recommend: Yes
7th September 2020:

Enjoyed stay host very helpful lovely breakfast
Tips:
Perfect location nip over bridge all you need there for you
Would Recommend: Yes
6th September 2020:

Excellent host, clean and tidy . Great sleep. One of the best breakfasts we have had. We Would highly recommend Acer Glen B&B. Steve works hard and complies with all COVID guidelines. We will definitely return and recommend to anyone looking for great accommodation. Thanks Steve for your hard work during this difficult times, hope to return in the near future.
Tips:
Castle tavern just a 10 minute walk from Acer Glen which serves lovely pub grub, we would highly recommend also. We also booked a one hour boat trip around Loch Ness which was very enjoyable. Trip to Falls of Foyer a must but not advisable if you have walking difficulties views incredible.
Would Recommend: Yes
4th September 2020:

Nice and central for heading out to restaurants, friendly, happy to store our bikes securely and a very well cooked breakfast.
Tips:
Great Chinese takeaway just down the street
Would Recommend: Yes
4th September 2020:

Great location /helpful staff Very clean
Would Recommend: Yes
30th August 2020:

Good nights sleep, very welcoming and great breakfast what more do you need! Would definitely stay again.
Would Recommend: Yes
.