Ardgowan B&B
45 Fairfield Road
Tel: 07944357800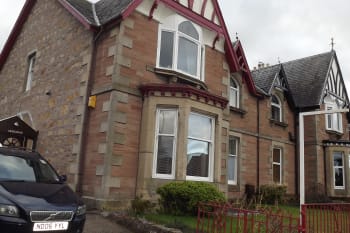 Availability
There are no rooms available at Ardgowan B&B
for these dates.
Please try other dates or select a
different property
.
rooms
Facilities
Breakfast Room
Children Welcome
Early Breakfast By Arrangement
Internet Access
Policies
Check In: Between 16:00 and 21:45
Check Out: Between 10:00 and 10:30
Wi-fi: Wireless internet is available and is free of charge.
Smoking: There is no smoking permitted anywhere within the property.
Parking: Parking for all guests is available on site and is free of charge.


Children: Children of all ages are welcome.
Pets: Pets are not allowed.
Groups: All groups are accepted.
Average
4.9
out of 5
9 reviews
100% recommend
Reviews
20th September 2021:

We had a very warm welcome at Ardgowan, which is tastefully decorated and spotlessly clean. Our room was quiet and well equipped. Ardgowan is very well located, a short walk from riverside walks, restaurants and the city centre.
Would Recommend: Yes
Owner Response:
Thank you for kind review :)
18th September 2021:

Simply the best B&B. Hosts friendly and welcoming. The rooms spacious comfortable and clean. Bathrooms spotless. Like a home from home. Breakfasts were varied home cooked and delicious. Really we could not fault one thing about this stay.
Tips:
A short walk from the B&B there is a nice canal walk. If eating out best to book. We visited Fields of Culloden and lock ness. We would recommend the boat trip around Lock Ness. You can book when you get there. Aviemore is also worth a visit.
Would Recommend: Yes
Owner Response:
Thank you so much for your kind review we appreciate your feed back. :)
14th September 2021:

A very warm welcome, the house is stunning, lovely staircase, high ceilings, tastefully decorated. We had a beautiful clean room and bathroom, comfy bed and chairs, tea/coffee making facilities, hairdryer, everything we needed. Super bay window with stained glass with a view of the Kessok Bridge in the distance. The breakfasts were delicious, plenty of choice, in beautiful dining room. Lock up garage for my husband's treasured bike.
Tips:
Inverness is a beautiful place to visit on foot, as I was. Fromm the B & B it was a 7 minute walk to the banks of the River Ness. Where there are restaurants, cafes, shops, Ness Bank to walk along and admire the architecture and surrounding hills. Eastgate shopping centre has fabulous shops. Thank you, Gwen & Andy, we will come again to explore more, especially the Battlefield of Culloden and all it's history.
Would Recommend: Yes
Owner Response:
Thank you for your kind review and hope to see you both again in the future
13th September 2021:

Absolutely amazing! Lovely breakfast in the morning. The shower is hot and has good water pressure too. The bed is extremely comfortable. Short walking distance to the main attractions in the area. Very nice hosts as well. Would definitely come back to stay.
Tips:
Easy day trip by bus to Isle of Skye is a must. Also, Culloden Battlefield is pretty moving. I would see it. An easy 40 min walk to Clava Cairns (Outlander rock to some) is work doing. Finally, a walk along the river to the Ness Islands is lovely.
Would Recommend: Yes
23rd August 2021:

Lovely B&B. Room was very spacious, clean with good facilities. Location is nice and quiet for a good night sleep. Owner was very flexible with storage of my bike which was much appreciated. Skipped breakfast as was up very early, though owner did give some options for 5am grazing if needed Would certainly go back.
Would Recommend: Yes
30th July 2021:

A great place! Very comfortable environment that enhances a wonderful Inverness experience.
Tips:
I enjoyed walking in the opposite direction of the city, encountering a river with locks and a path alongside.
Would Recommend: Yes
29th July 2021:

We had a very warm welcome upon arrival. Room was excellent as was the rest of the B&B. The breakfast was perfectly cooked and more than enough for most people. Well kept little garden to the rear of the property that you can sit and relax in. Good location. Not too busy a road and well within walking distance of the city centre. All in all a very enjoyable stay. No complaints at all.
Tips:
Loads of choices for places to eat in and around the city centre. The castle is worth a look and there are some lovely walks around. The Ness islands walk in particular was nice and is easily accessible for wheelchairs to.
Would Recommend: Yes
26th July 2021:

Would Recommend: Yes
6th June 2021:

Gwen it was delightful to meet you. You were a great host.
Tips:
Nice locatio short walk to the main area/shops
Would Recommend: Yes
.