The Quaich
36 Greig Street
Tel: 01463719140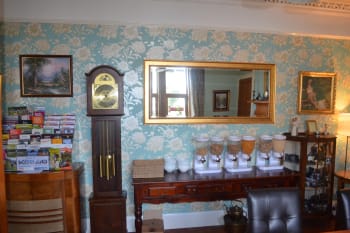 The Quiach B & B is a charming Victorian terraced house built-in 1872. The house has been tastefully refurbished retaining many original features and offers guests quality accommodation at affordable prices. Located in a quiet residential area, just close to the city centre, The Quaich is a 3-5 minute walk from the shopping pedestrian precinct, Inverness Castle and Loch Ness is only a 15-minute drive from the house. With a relaxed and welcoming atmosphere and It's the ideal base to visit Inverness and the Highlands and also a good base for golf and family holidays.
Facilities
Breakfast Room
Internet Access
Policies
Check In: Between 16:00 and 22:00
Check Out: Between 6:00 and 10:00
Wi-fi: Wireless internet is available and is free of charge.
Smoking: There is no smoking permitted anywhere within the property.
Parking: On street parking is available and is free of charge. Parking is available nearby at a charge of £7.00 per day.


Children: Children aged 7 or over are welcome.
Pets: Pets are not allowed.
Groups: All groups are accepted.
Average
4.7
out of 5
15 reviews
100% recommend
Reviews
8th October 2021:

Would Recommend: Yes
20th September 2021:

Lovely little B&B, very clean and modern, hosts very friendly and helpful. Five minute walk to the centre. Would stay here again.
Tips:
Enjoyed the Lochness coach/boat trip, booked at the local bus station. Had a lovely walk around the locks, only 10 to 15 minutes walk away.
Would Recommend: Yes
19th September 2021:

Nice little B&B on a street with a lot of competition. My room was at the back of the house so I heard none of the house from the bustling street. The room was clean & cozy.
Tips:
The B&B is located in dowtown Inverness. Many shops & restaurants are within walking distances. If you love books, go to Leakey's Book Shop. Want a good burger? Go to the Grumpy Chef.
Would Recommend: Yes
17th September 2021:

It suited my purpose for an early start not toop far from the bus station
Tips:
Ignore booking com the establishment does not require payment by bank transfer in advance a short phone call should sort it out
Would Recommend: Yes
12th September 2021:

Host on hand to welcome and orient to facilities. Limited parking available. This is not a bed & breakfast. No breakfast facilities available.
Tips:
Several lovely restaurants and bars within close walking distance / town center.
Would Recommend: Yes
Owner Response:
Unfortunately we stopped serving breakfast due to COVID and because not having the 2 meter distance requirement in the dining room. In addition we make it clear that breakfast is not included when people make a reservation. We have reduced our prices by 40% this year and we are spending more on cleaning and hygiene as health and safety is our priority and we are trying to make everyone one happy. We are hoping to start serving breakfast next season.
10th September 2021:

Very friendly staff. Tidy room, perfect for a night.
Would Recommend: Yes
4th August 2021:

Would Recommend: Yes
1st August 2021:

Very helpful
Tips:
Very convinence near the town centre
Would Recommend: Yes
7th July 2021:

Would Recommend: Yes
18th June 2021:

We had a very comfortable night stay at The Quaich in Inverness. The room and common areas were smart and spotlessly clean. The owner was extremely friendly and helpful. We will definitely be staying there again on our next trip to Invernes.
Tips:
A very pleasant 5 minute walk from the centre of town and all that Inverness has to offer. We had a fabulous meal in Little Italy restaurant. Highly recommended.
Would Recommend: Yes
15th June 2021:

very friendly welcome, no issues, we would definately use again. 5 minutes to city centre
Would Recommend: Yes
14th June 2021:

Very friendly and welcoming
Would Recommend: Yes
30th May 2021:

Beautiful, homely and clean b&b, I had a very comfortable stay here, and a great friendly welcome by the host.
Tips:
Very local to shops / walks / restaurants.
Would Recommend: Yes
27th August 2020:

lovely, customer service is fantastic, very homey
Would Recommend: Yes
9th March 2020:

Would Recommend: Yes
.